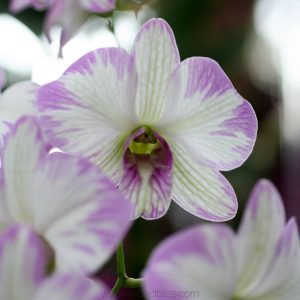 Orchid care at home is the essence of what this website is about. Since most of us aren't greenhouse growers, I offer a practical guide on how to care for orchids in a typical home environment.
Caring for Orchids at Home
Although orchid care requirements vary from species to species, there are 7 care aspects that pertain to all orchids. This post is intended as an overall guide but is not specific to any specific variety of orchid. Knowing these 7 tips will help you care for your orchids at home.
Choose an Orchid with the Right Lighting Requirements
Indoor orchid care begins with choosing an orchid with the right light requirements. All orchids need light, but some orchids require almost full sun and while others do best in bright light.
For most orchids an east-facing window is ideal. This way orchids receive morning sun, but not the intensity of a west-facing window. At the same time, a south-facing window can also be ideal. The idea is that you can always take away light by adding a sheer curtain or moving the orchid away from the window.
I like to think of orchids on a sort of light requirement spectrum. If you are interested in a particular type of orchid, ask the seller how much light that orchid needs compared to a Cattleya (high light requirements), a Brassia (moderate light requirements) and a Phalaenopsis (low light requirements).
High Light Orchids
For those us caring for orchids at home, it's important to give these orchids as much diffused light as possible. A south-facing window with a sheer curtain is ideal.
Moderate Light Orchids
Several hours of bright light will do the trick for these orchids. South, east, or west windows will work as long as the orchids are protected from direct light.
Low Light Orchids
Any window will do for these orchids as long as they are protected from direct light. If their leaves become discolored from too much light bring them a few more inches away from the window or hang a sheer curtain.
Above I have described ideal light conditions. For the record, I care for most of my orchids in my home in an east-facing window. I have huge eaves over my other windows, so my light is best on the east side. I just place orchids that require more light closer to the glass and those with lesser light requirements farther away.
My point is that even when conditions aren't ideal you can make it work. I have a friend that grows moth orchids in a south-facing window in her classroom. Because another large building is across from her classroom her low light orchid does just fine in a south-facing window without a sheer curtain.
While we're talking about light, I will add that most orchids can be grown under artificial light. When caring for orchids at home, don't let lack of light stop you from growing orchids. This is the grow light system I use and my orchids have rebloomed and thrived with these lights.
Control the Temperature and Air Circulation
Two orchid care tips that go hand in hand are temperature and air circulation. My first recommendation is to choose orchids that thrive, like you and me, in the 70s (F).
The trick is that many orchids like temperature drops in the evening. My suggestion is to crack a window if it's not too cold outside.
Air circulation is very important. Not only does it help to prevent disease, but it also helps to regulate the temperature. Orchids near a window can get too hot or too cold. Thankfully, a fan will help to moderate the temperature.
I wish I had a ceiling fan, but I don't. Instead, I use this small and quiet Chill Out fan. I set the fan to it's lowest setting and give my orchids a nice gentle breeze and they feel like they're in paradise.
How to Water Your Orchid
Most orchids die because they've been over-watered. Learning to properly water is especially important when caring for orchids indoors.
Although water requirements vary, generally thin leafed orchids need water more often than thick-leaved orchids. Also, dormant orchids need less frequent watering.
You will know if your orchid is dormant because you won't notice any leaf or root growth, or any flowers. The orchid is simply resting, gearing up for the next growth and flowering cycle.
This is how I water: first, I check the potting media of each orchid before watering it. If the media is still damp, I don't water. This is especially true for orchids planted in sphagnum moss because moss really retains water. If your orchid has a plastic inner pot, examine the pot for condensation.
After a while, you will get into a watering rhythm. Here are a few tips that will help you while finding your orchids watering sweet spot:
Orchids do not like to sit in water. This is especially true for dendrobiums.
By the same token, miltoniopsis (pansy orchid) and paphiopedilum (lady slipper) do not like to dry out.
Don't water because it's watering day, first check the potting medium. If it's still wet, wait.
More orchids are killed by overwatering than by underwatering.
Provide Some Humidity
I understand that you are likely caring for your orchids at home, not in a greenhouse. That's me too. While providing adequate humidity is important, if growing in your home, it is equally important not to over humidify.
We want to grow orchids, not mold. I have had the most success using a humidifier and a fan. The humidifier provides the humidity and fan helps prevent disease and mold.
Sad to say, but I have tried humidity trays without any results. I know they are popular, but I would be lying if I said they have raised the humidity levels around my orchids.
I use a humidistat to track my humidity levels. For all my orchids, I try to keep my humidity levels at 50%. That's on the high end for what is recommended for a home, and the low end for what is recommended for orchids. It's not perfect, it's a compromise.
Fertilize Your Orchid Sparingly
Next, when it comes to fertilizing orchids, less is more. Salt build-up, the carrier for the minerals found in fertilizer, is really bad for orchids. The common refrain for fertilizing orchids is weekly weakly. One week in four, or even 2 weeks in 4 do not use any fertilizer. This will help to flush out the salts in the potting media. Be sure to dilute the recommended dosage by 1/2 to 1/4 strength.
Decoding Fertilizer Labels
1st number refers to nitrogen.

Promotes healthy leaves.
Use when you see new leaves begin to grow.
Recommendation: 9-3-6

2nd number is for phosphorous.

Encourages flowers.
Use before the flower buds appear. For example, if I wanted to fertilize for flowers in a winter-blooming cymbidium, I would begin fertilizing at the end of fall before the flower spike had begun to grow.
Recommendation: 3-12-6.
Note: once the orchid is prepared to bloom, return to a balanced fertilizer.

3 number stands for potassium.

Supports a strong root system, including the overall well-being of your orchids. Potassium also helps to fight pests and disease and bounce back from unfavorable conditions such as cold and drought conditions.
Use when roots are forming.
Recommendation: 0-0-3.
RePotting Is Important
Finally, when caring for orchids at home, many people wonder if they need to re-pot. They do! I have a full post about when to repot orchids and how to repot orchids.
To get you started, here is a simple overview to let you know if the time is right.
Do Pot:
When the flowers have all died.
Before the soil breaks down. A good quality soil should last 1-2 years.
If you have purchased a new orchid and you want to check out the root system.
If you see new roots growing.
If your orchid is growing in sphagnum moss and you'd like to switch to a better potting medium
Don't Pot:
If your orchid is still flowering.
A Dendrobium. Only repot a Dendrobium if you absolutely have to. They do not like their roots to be disturbed.
Indoor Orchid Care In a Nutshell
There you have it, a basic guide to caring for orchids at home. Many people think that orchids are difficult to grow. The truth is that they are easy, especially if they are watered correctly. Comment below to share your orchid concerns and successes.
I wish you the best in caring for these beauties!