Some of the links on this page may be affiliate links. Click here to learn more.
Growing orchids is fun and rewarding. It also takes dedication and a willingness to learn. When I first started growing orchids, I had no mentors or friends who also grew orchids. So, I turned to books. Almost 15 years later, I have many orchid-growing friends and mentors, and I still love learning about orchids through books.
Here are my top 10 all-time favorite books that help me grow orchids:
(Psst…there is a bonus book at the end 😉)
1- The American Orchid Society Guide to Orchids and Their Culture by Mary E. Gerritsen and Ron Parsons
What's so special about this book: Really, it's the first 75 pages I find most helpful. This book is organized in a Q and A format. You'll find answers to questions like, "When will my orchid bloom?" and "How long will it bloom for?" This book also has care information on popular types of orchids.
CLICK HERE FOR The AOS Guide to Orchids and their Culture
2- Orchid Modern: Living and Designing with the World's Most Elegant Houseplants by Marc Hachadourian
Why I like this book: First off, Marc Hachadourian is the curator of the orchid collection at the New York Botanical Garden. I trust his experience and thoughts about orchid culture. Secondly, this book is not your average orchid-care book. It is filled with orchid projects. You'll learn how to make a terrarium, wreath, and everything in between. This book is also a great resource if you love jewel orchids. This is unusual as most orchid books do not have much information on these orchids.
3- Bloom-Again Orchids by Judy White
I recommend this book because it details "50 Easy-Care Orchids that Flower Again and Again and Again." If you consider expanding your orchid collection, this book is a great place to start. It's always a good idea to learn about the care requirements of an orchid before you buy it. This way, you know beforehand if you and the orchid will be compatible before purchasing. After buying, you can look the orchid up and fine-tune your care.
CLICK HERE FOR BLOOM-AGAIN ORCHIDS
4- You Can Grow Cattleya Orchids by Mary Noble
CLICK HERE FOR YOU CAN GROW CATTLEYA ORCHIDS
5- You Can Grow Phalaenopsis Orchids by Mary Noble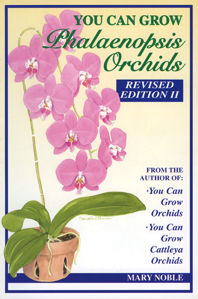 CLICK HERE FOR YOU CAN GROW PHALAENOPSIS ORCHIDS
CLICK HERE FOR YOU CAN GROW PHALAENOPSIS ORCHIDS
6- You Can Grow Orchids by Mary Noble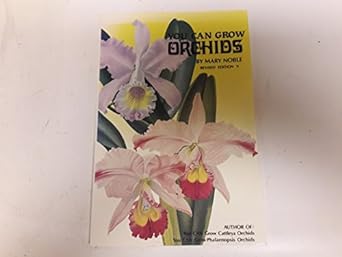 CLICK HERE FOR YOU CAN GROW ORCHIDS
I love these three books. They are easy to read, with a down-to-earth tone. Plus, I've learned things from these books I haven't read anywhere else. They are fairly short – less than 150 pages. If you are interested in Cattleya or Phalaenopsis or want an orchid overview, these books will steer you in the right direction.
Note: As these books are out of print, you may have to dig to find your copy, but I've done my best to link to used copies.
7- Extraordinary Orchids by Sandra Knapp
If you want a coffee table book about orchids filled with exquisite illustrations, this is for you. In addition to the eye candy, this book is filled with detailed information about orchids. For example, if you want an in-depth lesson on orchid roots, the chapter called Life in the air will tell you why the orchid's roots are so important, what they do, and why they are so "extraordinary." You'll never look at your orchid's roots the same, and you'll be a better caretaker and grow more beautiful orchids.
CLICK HERE FOR Extraordinary Orchids
8- Orchids at Christmas – Etchings and pen and ink drawings of orchids by Blanche Ames, The Rediscovery of a Lost Orchid by Professor Oakes Ames, and the poems the Ameses sent with their Christmas Cards
Buy this book if you love illustrations and are a bit sentimental. Orchids at Christmas is a tender love note to orchids, the Ameses friends, and each other. The idea of pairing a drawing of an orchid with a poem is unique and sweet. And the paper has a nice texture. It feels good in your hands.
CLICK HERE FOR ORCHIDS AT CHRISTMAS
9- The Orchid Thief: A True Story of Beauty and Obsession by Susan Orlean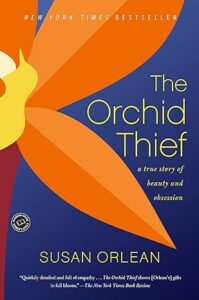 If you want the inside scoop on orchids, get The Orchid Thief. Susan Orlean is a master storyteller. She'll suck you in, guaranteed. You won't learn much about how to care for orchids in this book, but you will get lots of background information on how orchids became so wildly popular and the eccentrics who obsess over them. I mean, you wouldn't be reading this post if you weren't just a little off-center, right? 🤣.
CLICK HERE FOR THE ORCHID THIEF
10- Understanding Orchids by William Cullina
Want only one book? This is the one. This is the first book I ever bought on orchid care, and it did not disappoint. This book discusses all aspects of orchid care while keeping it easy to understand. The photography is great and explains exactly what Cullina is discussing. At the end of the book, you'll find a helpful list of commonly cultivated orchids, complete with care instructions and photos.
CLICK HERE FOR UNDERSTANDING ORCHIDS
Bonus – Your First Orchid
This book is a must-read for anyone new to growing orchids. Whether you're cultivating them on a windowsill, under artificial lights, or in a greenhouse, it covers all the basics and answers common care questions to get your orchids blooming.