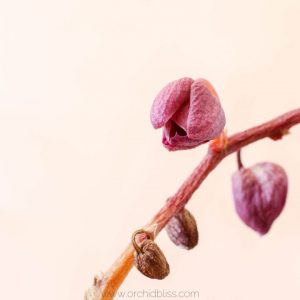 Bud blast
, to say it sounds like an expletive and really it is.
Bud blast describes when an orchid's buds appear to be developing normally and suddenly those beautiful buds wither up
, leaving you wondering
why
? Like many problems, the best course of action is prevention.
Here's the deal: the buds are the most fragile part of the plant and most susceptible to damage. I've purchased orchids and by the time I've come home my buds have been blasted. Granted it was a 3 hour drive home and the orchids did not appreciate it.
WHY ORCHIDS MAY EXPERIENCE BUD BLAST:
Water
Over and under watering can cause bud blast.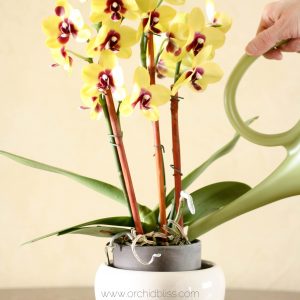 Learn how to water correctly and you'll avoid the #1 cause of orchid death
Read
Air Pollution
When bringing home an orchid, do what you can to protect it from exhaust fumes. Don't let your orchid ride in the trunk. To avoid exhaust fumes turn your car's air system to recirculate. Once at home a heating source that emits air pollution will cause bud blast.
Light
Lack of sufficient light can cause the buds to drop. Try moving your orchid closer to the window. By the same token, avoid setting an orchid too near a lamp or other bulb that puts off a lot of heat.
Temperature
Check to see if your orchid is in a place where there may be extreme changes in temperature. Being too near heating and cooling systems is not a good idea. Check for drafts near your orchid.  Proximity to exterior doors could pose a threat if you live in an area of extreme hot or cold temperatures.
These tips will help your orchid bloom and avoid bacterial leaf spots.
Read
Environment
A change in environment may trigger bud blast. If your orchid was accustomed to a paradisaical greenhouse and must now acclimate to your windowsill, it may take some time, but it should adjust. When I brought home some Cattleyas I lost just about every bud. Now though, they are doing fine and in bud.
TIP: Even moving orchids from room to room may trigger bud blast. Before moving your orchid to enjoy the flowers, make sure that the bud have opened.
What to do:
Sometimes you'll never know why an orchid suddenly looses its buds. Just do the best you can to can for your orchid. Learn what the best care practices are for your particular orchid, then do what you can to provide the best care possible.
Phalaenopsis, or moth orchids, are prone to bud blast, though other orchid varieties certainly may loose their buds. If your Phalaneopsis has lost its buds, simply cut it back to a fresh node, or notch along the stem and a new flower spike may begin to grow. Once an orchid is in full flower and no buds remain, you can place this orchid in a less than ideal location.
Don't Give Up
Whatever you do, keep trying. Orchids are resilient and can bounce back from environmental disruption. Next time, those buds will follow through with flowers!