We all love orchids for their graceful stems and effervescent blooms, but what can you do when those beautiful flowers start to fall off? And why are they dropping in the first place?
Your orchid's flowers are likely falling off because the plant is finished blooming. The orchid is about to enter a hibernation period where it will rest before blooming again. Other reasons for flowers dropping include overwatering, underwatering, lack of sunlight, and too much sun.
To find out more about why your orchid's flowers are dropping, read on. We'll also touch on the orchid's life cycle to understand the different stages of the plant's development.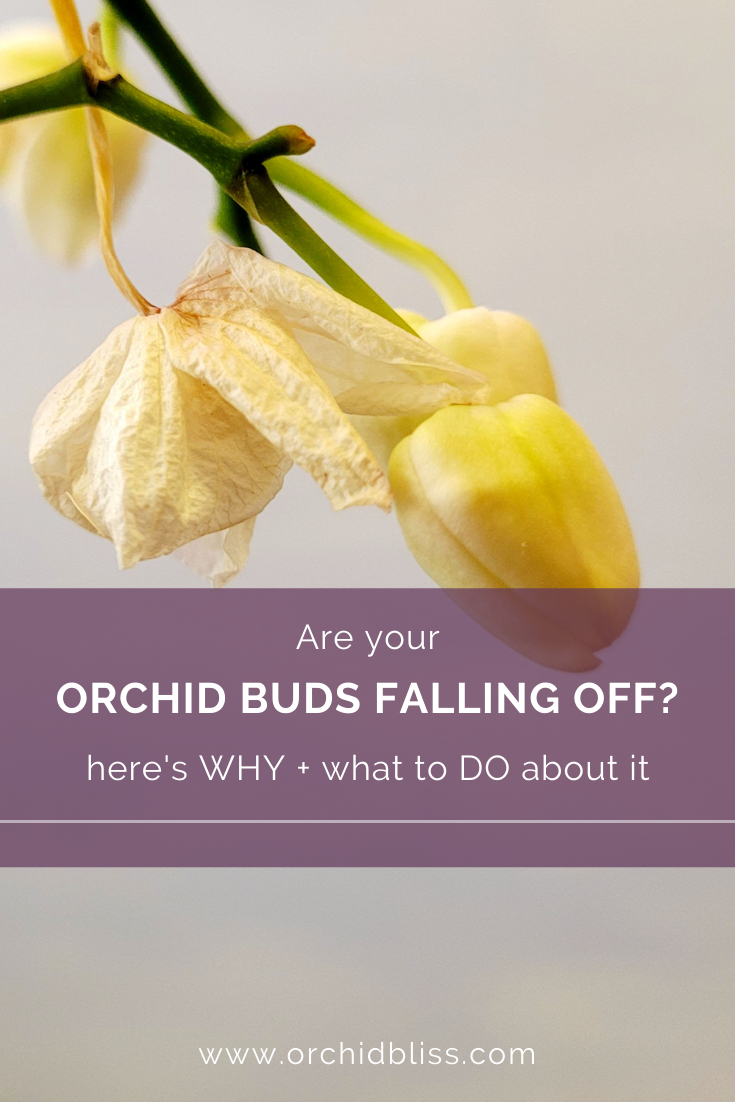 Some of the links on this page may be affiliate links. Click here to learn more.
Introduction to Orchid Flowers
Orchids are one of the most diverse flowers globally, with over 25,000 species found on the planet. Each specimen has developed in a distinct way to attract pollinators, using brightly colored flowers to entice everything from insects to mice.
These peculiar flowers are what make them such a popular house plant. The blooms are long-lasting, and when cared for properly, the plants last for years. Orchid lovers are passionate and faithful, often giving plants as gifts on special occasions. They're the first to tell you that a dropped flower is probably nothing to fear.
Orchid Life Cycle
Orchids, like all plants, and humans, have a life cycle. Following this cycle can help you determine when to fertilize your plant when to re-pot it, and if the dropping flowers are normal or something of concern.
There are six main stages in the orchid's life cycle. Let's take a quick look at these stages.
Seed
In nature, seeds are where orchids usually start. These seeds are shed by mature orchids that have been successfully pollinated. It can take months and years for a seed to begin growing successfully.
Germination
Germination is the process of a fallen seed beginning to grow. It's like the incubation period of a hen's egg. Seeds usually need to be kept warm and moist and have a small amount of light available. Eventually, a successfully germinated seed will begin to sprout. This process can take anywhere from two to six months.
It is worth noting that in the wild, orchids will not germinate without fungi. The fungi must penetrate the cell walls of the orchid seed. The seed will then begin to draw nutrients from the fungi, swell, grow and begin to develop.
The orchid's dependency on particular fungi made cultivating orchids from seed a mystery for many years. In fact, it wasn't until 1922 when Lewis Knudson discovered the possibility of artificially providing the orchid seed with all the nutrients, hormones, and carbohydrates it would normally receive from the fungus. The process has been refined since then. Now it is possible, though still complex, to set up an in-home lab for germinating orchids.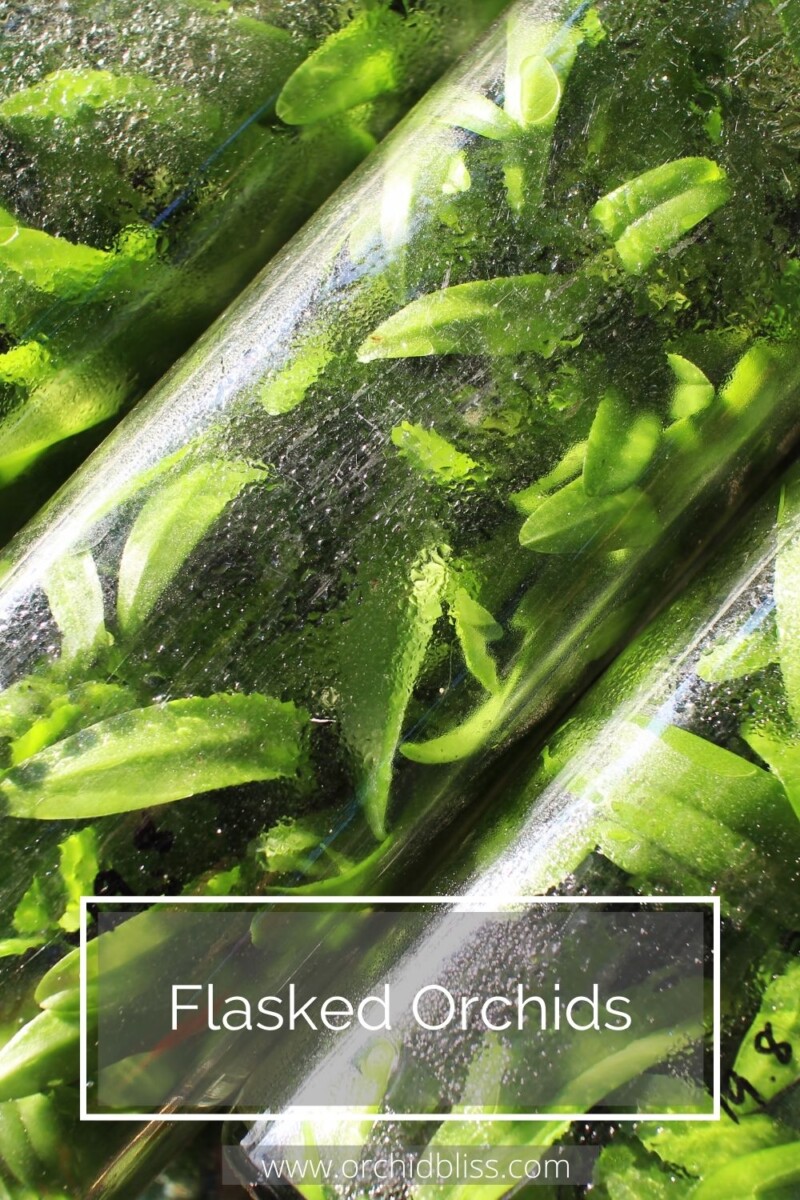 Conveniently, you can order flasked seedlings. This way you can raise flasked orchid seedlings and skip the germination process. For flasked orchid seedlings, here is a link to Carter and Holmes Orchids.
Growth
The next three to five years are dedicated to growing into a healthy plant. The orchid will first make a new leaf, creating a way for it to absorb sunlight. Next, stalk, roots, and more leaves will develop. Once the plant has a healthy support system, it can begin to flower.
Reproduction
Once the plant is mature and stable, it will begin to develop buds. When a plant starts to bloom, it is getting ready to reproduce. The flower of an orchid contains the male and female reproductive organs of the plant. 
Pollination
The flower is, of course, the most attractive part of the orchid. And it's not only humans that find them enticing. Orchid flowers grow in specific shapes and colors to attract particular pollinators. 
Some of these flowers grow in bright colors to mimic the nectar-holding flowers of other plants so that butterflies and birds will reach into their petals. While there is usually no nectar to be found, the orchids have successfully tricked these flying animals into spreading their pollen anyway.
These airborne visitors then pay a call to nearby orchids, helping the plants to cross-pollinate.
Seed Spreading
Once the orchid flower has been pollinated, the petals will close, and it will concentrate on developing a seed pod. The development of this pod can take as little as a week or as long as a year. After the pod is fully developed, the flower will drop the pod to the ground and take a recuperation period before starting the reproduction process.
Dormancy
Suppose your plant does not become pollinated (which it probably won't at your home), then it will grow through a slightly different cycle. The plant will follow the same steps until the reproduction phase, where it will stay for a duration of time. 
Once it reaches the end of the bloom cycle, the plant will drop its flower and enter a dormancy phase. During this stage, the orchid will appear lifeless. There will be no new root growth, no buds produced, and very little water will be needed. However, the plant is merely regaining its strength, after which it will produce more roots before shooting up a flower once more in hopes of successfully reproducing.
How Long Orchid Flowers Last
Some orchids, like the most common house orchid, the Phalaenopsis orchid, will bloom for as long as three months. Other orchids, like the Cattleyas, spend about a month in bloom. How long an orchid's flower will last depends not only on the plant species but also on its health.
How Often Orchids Bloom
Most orchids spend about two to six months in dormancy before they begin to wake and grow again. You'll often only witness one bloom a year for plants with more extended dormancy periods.
Tip: Since Phalaenopsis orchids don't have a dormancy period, these orchids can bloom two or three times in one year.
Orchid Flowers Falling Off Stem
As we've learned above, flowers falling off the stem of your orchid is completely natural. It's likely that your plant has simply completed its natural bloom cycle and is dropping its flower in preparation for the dormancy phase the plant is about to enter.
Orchid Flowers Falling Off Stem Brown
For months, you've been blessed with the beautiful bloom of your new orchid plant, but now, the flowers have fallen, and the stem is turning brown. What should you do?
Naturally, your orchid's flowers will drop as part of the plant's life cycle, and many times, you won't need to take any action. Sometimes, however, the orchid will benefit from being pruned, especially if the stem is turning brown. 
A browning stem can signify a dying part of the plant. This is nothing to fear; it merely means the plant is no longer using that part. Like the flower that has fallen, the stem might be ditched to conserve energy and focus it on new growth instead.
If your orchid's bare stem has turned brown, you should remove that stem completely.
Take a clean pair of gardening shears and make a precise cut at the bottom of the stem, where it reaches out at the plant's base. Not only will this remove the dying branch, but it will also help focus your plant's energy on developing new roots, which in turn will give your plant a higher chance of flowering next year.
To help you further, start by downloading my free cheat sheet to see where to cut the orchid flower spike after blooms have faded to trigger re-blooming. Click here, for the cheat sheet. It'll be super helpful.
Orchid Flowers Falling Off and Leaves Turning Yellow
While it's likely that your dropping flowers are completely normal, there are chances that something harmful could be at play.
Overwatering
Of these negative reasons, the most likely one is that you are overwatering your orchid. A flowering orchid may be tempting to care for more than usual, but overwatering is a surefire way to kill your plant.
Improper watering often causes a host of problems, resulting in an unhealthy orchid. To avoid these pitfalls, click here to grab your cheat sheet to learn how to grow healthier orchids.
If your blooming orchid has quickly dropped its flowers and its leaves are turning yellow and drooping, you probably have waterlogged the plant. You must check your plant's roots for any signs of root rot. This will look like deep green, brown, or even black roots. Soft or mushy roots also signify too much water.
You need to perform restorative measures immediately to keep your plant alive. Remove the orchid from the pot, cut off all dead or dying roots, and let the plant dry before repotting it.
Sterilizing the open roots with a mixture of water and hydrogen peroxide will speed up the healing process. Make sure you repot the plant in well-draining, airy soil that will disperse water quickly.
Too Much Light
Another reason for your orchid's leaves to turn yellow is that the plant receives too much light. While orchids enjoy bright locations, they do not want direct sunlight. The key to having a healthy indoor plant is to mimic its natural habitat to the best of your abilities. This looks like a humid, warm place with filtered sunlight, like sitting under a tropical canopy for orchids.
Try placing your orchid in a bathroom with a north or east-facing window. Alternatively, living on the counter in a bright kitchen will suit most orchids as well. Remember to spritz your orchid's roots often to keep them moist, but not wet.
Location Too Cold
Another suspect of yellowing leaves and dropped flowers is a room that is too cold. While a drop in nighttime temperatures tells an orchid when it's time to bloom, living full-time in a chilly room will warrant a negative response from your plant.
There are three different categories of orchids for temperature: warm, intermediate, and cool. The temperatures listed below are the ideal ranges for each of these plants. Also, note that these are the recommended temperatures during winter; they can safely raise 10-20 degrees in the summer.
65°-85° F/18.3° 24.9° C.
Winter lows between 65°-70°F/18°-21° C
Summer highs around 85° F/29° C

60º-80°F/15.5°-26.6°C
Winter lows of 58°-62°F/14.4°-16.6°C
Summer highs in low 80s°F/27° C

50° - 75° F / 10° - 23.9° C
Winter lows around 50°F/10°C
Summer highs around 80°F/26.6° C
Find out what type of orchid you have and what temperature type it is. Then, take note of the room you're keeping it in. An orchid will be very unhappy in too-cool of locations, and its flowers may drop, and leaves turn yellow to signify this.
To get you started, here is a table with popularly cultivated orchids.
| | | | |
| --- | --- | --- | --- |
| | Warm-Intermediate Growing Orchids | Intermediate Growing Orchids | |
| | | | NOTE: This table is intended as a general guide. Before purchasing an orchid, always check with the seller to find out what the optimum temperature range is to grow your prospective orchid. Remember, there is a lot of variance within orchid genera. |
Orchid Flowers Falling Off Stem Yellow
Once your orchid's flowers have fallen off, it's not uncommon for the stem to turn yellow. This is a good sign that your orchid is done with the stem. If the orchid's stem is yellow and shriveling, you can cut this stem at the base.
A shriveled stem will not bloom again.
Orchid Flowers Falling Off Before Blooming
While it's natural for your orchid's flowers to drop once the blooming period is over, it's not natural for the flowers to fall before they even bloom. This is often referred to as "bud blast" and can occur for a variety of reasons.
Your Plant Is Stressed
First of all, if your orchid is dropping buds, it is severely stressed. Plants that are put under stress will react physically by dropping buds, leaves, or drooping. It's imperative to check on your plants daily, looking for signs that they aren't doing well. There are a variety of reasons why your orchid may be stressed.
Sudden Relocation
Orchids do not enjoy being moved. Relocating your orchid from one room to another, even if you're improving its surroundings, can cause the orchid to react negatively. 
Luckily, this stress could be temporary, and though your plant has had an adverse reaction, you shouldn't move the plant again. If you've moved the plant to a more suitable location, it will hopefully acclimatize over time and eventually produce more blooms.
Drastic Temperature Fluctuations
Another thing that disagrees greatly with orchids is dramatic temperature changes. While they enjoy nighttime temperatures to be 20°F (-6.7°C) lower than daytime temperatures, they don't enjoy fluctuations in these temperatures throughout the day or night. A smooth rise and fall in temperatures are ideal for an orchid.
You might be thinking that your orchid is in a room with steady temps; however, these flowers are so sensitive that even temporary changes can stress them out. Below are some examples of things that could upset your orchid and cause bud blast.
A nearby open window

Air conditioning

Being too close to a fireplace/space heater

Being left outdoors too late in the year

Experiencing residual heat from an open oven or dishwasher

Too much direct sun

A draft in the building
Chemicals in the Air
Another reason your orchid could be dropping its buds is because of harsh chemicals in the air. When people say that orchids are sensitive plants, they truly mean it. 
Since a lot of orchids are epiphytes, they gather most of their nutrients from the air. Harsh chemicals or scents in the air can partially poison your plant, causing bud blast. Take a look at the list below and see if any of these materials have been near your orchid lately.
Perfume

Air fresheners

Gas leaks

Paint thinner

Cigarette/ cigar smoke

Aerosol paint

Fabric fresheners

Artificially scented candles
Temperature Shock
Not only are orchids sensitive to the air's temperature around them, but they are also susceptible to the water temperature applied to their roots. Caring for your plant with water that is either too hot or too cold can shock your orchid, causing it to drop its flowers and enter dormancy as a line of defense.
Tip: Many people recommend placing ice cubes on your orchid's soil as a slow-watering tool. However, an orchid's roots are extremely delicate, and such cold water can harm them. It's better to water your orchid every ten days and provide a light misting of the roots between waterings. In other words, do not water your orchids with ice cubes.
Orchid Flowers Falling Off Suddenly
If your orchid flowers fall off suddenly, it could be cause for concern. What determines whether or not this is an issue is when the flowers fall. 
If your plant is nearing the end of its expected bloom cycle, a sudden drop in flowers may seem dramatic but is completely normal. If the bloom cycle is only just beginning or halfway through, your plant could be showing stress.
To ensure that your plant is cared for:
Check its surroundings.

Make sure there are no open windows or HVAC vents nearby.

Keep your orchid away from your fruit bowl on your counter.
It may seem unbelievable, but the ethylene gas that the fruit emits as it ripens can cause your orchid to drop its flowers.
Orchid Flowers Falling Off Prematurely
If your orchid is expected to stay in bloom for a few months, but the flowers are falling off well before then, it's not a good sign. The plant could be dropping its flowers early and entering a premature dormancy to try and save itself. The plant could also be under siege from some type of mite or bacteria. Let's look at a few of these afflictions and how you can stop them from killing your plant.
Root Rot
The most common orchid illness is root rot. This is often caused by overwatering, but it can also be caused by too absorptive soil, a container that doesn't breathe, too little light, or being kept in a cold room. 
To save your orchid from root rot, you'll need to cut off sick roots immediately. The plant will need to be moved into a fresh pot of well-draining soil. Be very patient with your orchid at this time as root rot is a highly stressful event for a plant, and recovering from it takes a lot of effort.
Underwatering
Opposite of overwatering, underwatering your orchid is dangerous, too. If an orchid attempting to blossom is put through a time of drought, the plant could quickly drop its developing flowers that are starved for nutrients. A good soaking and subsequent spritzing could save the planet, but, unfortunately, it's too late for the flowers.
Summary
Orchids are sensitive plants. Their flowers are prone to stress under the slightest change in their surroundings. If your orchid's flowers are dropping, it could be completely normal, or it could be a sign of something dangerous. However, don't give up on your orchid. Even if its flowers are gone, these plants can bounce back, given the right light, warmth, and care.
Discover – How to Care for Phalaenopsis Orchids
You're on fire 🔥 – keep learning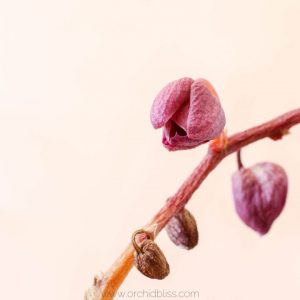 How to Prevent Orchid Buds from Drying Up Before Blossoming
Read
Sources