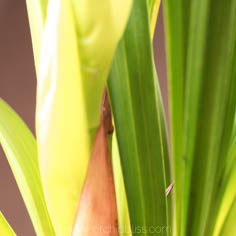 Yellowing leaves are a symptom that something is not right with your orchid. Find out what your orchid is telling you.
If you've only had the orchid for two days and the leaves are already turning yellow, the problem started before you acquired the orchid. You could try and return the Cymbidium and get another one. Sometimes the abundance of flowers and buds on Cymbidiums can be distracting.
Let's talk about what may have caused the yellowing leaves in the first place. Yellowing leaves can indicate several different problems: aging, too much sun, lack of nutrients, and pests.
​
Some of the links on this page may be affiliate links. Click here to learn more.
Aging Leaves
This is the simplest answer, which isn't even a problem. It's just part of an orchid's natural growth cycle. Older leaves will turn yellow, shrivel up and die. New leaves grow and take their place. If all the leaves or newer leaves are yellowing, then that isn't the problem.
Sunlight
Too much sun can cause orchid leaves to turn yellow. Before assuming that your orchid is getting too much sun, find out what color your orchid leaves should be. Cattleyas, for example, bloom best when their leaves are a light, bright green.
Cymbidiums require a lot of light. Usually, as much light as you can give them if you are growing them indoors. It is possible that your orchid was given too much light before you got it. If you are growing your Cymbidium outdoors, assuming you live in a temperate climate, place the orchid where it will receive filtered sunlight.
Nutritional Deficiency
Sometimes yellowing leaves indicate a lack of nitrogen or iron. On my orchids I use DynaGro. For yellowing leaves use Foliage Pro. This fertilizer has a nitrogen content of 9%. Dilute the fertilizer recommendation by 1/2 to 1/4 of the recommended dosage, mix with water and apply 3 out of 4 weeks in a month. Use a light hand when fertilizing orchids.
Pests
Augh bugs! This is the worst-case scenario. Boisduval scale can be a nightmare. These insects have a thick detached shell that is difficult to remove. Even once the bugs are gone the leaves will remain discolored. Treat scale by scrubbing leaves, sheaths and even rhizomes with 70% alcohol using an old toothbrush. Spraying with horticulture oil will also help treat scale.
You're the Doctor
Now that you know what may be causing your orchid's leaves to turn yellow, it's time to take action. Your orchids will thank you. Don't expect immediate results. Sometimes it can take a while for the orchid to recover.
Keep Learning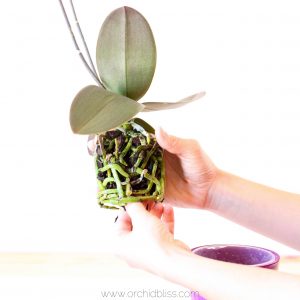 For optimum health, repot your orchid every 1-2 years. Come learn how.
Read