You love orchids, you want another, but before buying orchids you want the lowdown on how to get the best orchid for the best price. The truth is, orchids can be costly.
Let's discuss several different buying options for orchids: local nurseries and orchid shows, nurseries-online, big box stores, specialty shops, and friends.
Some of the links on this page may be affiliate links. Click here to learn more.
Buying Orchids: Top Quality Best Price
TIP: Before you buy, make sure you purchase an orchid that you can provide the care it needs. To learn about 6 easy orchid that will thrive in your home, click here.
Local Nurseries & Orchid Shows*
*I am listing these together since the pros and cons pretty much the same.
Pros:
Choice: You get to select the orchid that looks best to you. Inspect the leaves, the roots, the flower, everything. Then you pick the one you like most.
Selection: There may be several different varieties to choose from. If there is a certain orchid you've been trying to find, a nursery is your best bet. At orchid shows you will have the choice between many different vendors.
Expertise: This is the biggest advantage is that you can talk, face-to-face with knowledgeable experts. And, if they aren't experts, you'll be able to pick up on that right away. Whatever questions you have about any particular orchid, you can ask.
Note: When deciding where to buy orchids you're more likely to get an orchid expert at an orchid show than you are at a general plant nursery. I look forward to buying a few orchids every time I attend the Salt Lake City Orchid Show.
Cons:
Price: These orchids can be pricey.
Nursery: Online
Pros:
Convenience: When purchasing orchids online you never have to leave the comfort of home. You can shop around at many different stores, all with the click of a button.
Selection: Online you will find the biggest selection anywhere because there are so many options.
Expertise: While you will not be able to talk to an expert face-to-face, you can communicate chat online or via email. They should be able to answer any question you have, if not, keep looking. Buy from a grower who knows their orchids.
Cons:
Price: Again, the cost of an online orchid can be pretty steep, plus there are shipping charges.
If you are interested in purchasing orchids online, here are some of my favorite online shops:
---
Big Box Stores
Pros
Price: The biggest advantage of buying orchids at a big box is the price. If are lucky enough to have a Trader Joes nearby. You can buy orchids inexpensively. Sometimes you can purchase orchids that are out of bloom for a few dollars.
Cons:
Selection: Usually there is an abundant supply of Phalaenopsis orchids, sometimes I've seen Cymbidiums and Dendrobiums. Be careful when purchasing Dendrobiums at a big box store as they are invariable overwatered. Though Trader Joes and Wegmans have a wider selection than most.
Expertise: There may not be anyone who can answer your questions. And, sometimes these orchids may not have been well cared for.
---
Specialty Shops
Pros:
Convenience & Expertise: If you have an orchid shop around the corner then you'll get beautiful orchids from a knowledgeable seller. You may be able to purchase an orchid less expensively in a grower's pot, or you can pay more for an orchid in an elegant pot.
The price depends on the store. You may pay top dollar, or you may be able to get some good deals.
---
Friends
Pros:
Price: I've been offered more orchids (usually moth orchids) than I can accept from friends who have an orchid that is out of bloom.
Cons:
Expertise: You may be offered an orchid that has been very poorly cared for–often WAY over-watered. But hey, it was free.
Supply: You can't always get an orchid from your friends whenever you want one 🙂
---
You've Got This!
I've purchased orchids from all of these sources and have been happy with the orchids. My last bit of advice when buying orchids is to check the orchid carefully. Make sure it's healthy and not carrying any hitchhikers.
For best odds, it's a good idea to buy orchids that will do perform well in your growing environment. To learn about specific types of orchids that you can grow in your home, click here.
Further Reading: Here's How to Select a Healthy Orchid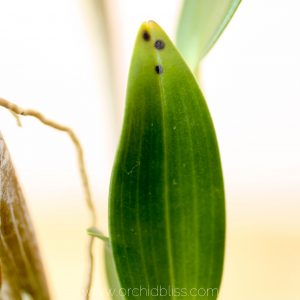 For your orchids' sake, I hope you won't ever need this info., but here it is anyway - just in case.
Read