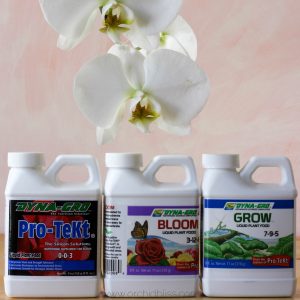 Fertilizing orchids is essential to promote the overall orchid health, but it must be done correctly.
An important way to provide your orchids with essential nutrients that they will not get by water alone is to fertilize. The key is to fertilizing properly is to not overdo it. Orchids are salt sensitive. And salt is the carrier for the minerals found in fertilizers. That's why there are a few things to keep in mind, so you can do it safely.
Some of the links on this page may be affiliate links. Click here to learn more.
FERTILIZING ORCHIDS
The mantra most repeated when fertilizing orchids is weekly, weakly. Cut the fertilizer to half to one-quarter of the package instructions. For example, if the fertilizer manufacturer instructions say to add 1 teaspoon of fertilizer to 1 gallon of water, add only 1/2 to 1/4 teaspoon of fertilizer to 1 gallon of water. Every fourth watering does not use fertilizer and flush the plant to wash away any salt build-up.
Additionally, the fertilizer number is representative of a percentage. For example, if the fertilizer labels read 7-7-7. This means that there is 7% nitrogen, 7% phosphorous and 7% potassium. While these numbers do not add up to 100%, they do represent a concentration. The lower the numbers, the lower the concentration of the respective nutrients.
Understanding the Orchid's Life Cycle and Fertilizer
You may have noticed that sometimes your orchids seem to be doing nothing at all while other times you notice leaves emerging, flower spikes forming and new roots developing. These are all parts of the orchid's life cycle, including the rest cycle. Observing this cycle will help you know when to fertilize and which type to use.
FEEDING ORCHIDS – Fertilizer by the Number
Understanding fertilizer numbers will help you to get the most out of your orchids and the fertilizer. Don't worry if the fertilizer doesn't specifically say that it is for orchids. Knowing the minerals that numbers stand for and diluting the fertilizer is what is most important.
#1 Nitrogen
The first number on the fertilizer label is always nitrogen. Nitrogen promotes healthy, lush foliage. High nitrogen fertilizer is recommended if using a wood-based planting media, 9-3-6. Use this fertilizer when you notice new leaves forming.
#2 Phosphorous
The second number refers to phosphorous. To promote flowers, use a higher phosphorous fertilizer such as 3-12-6. Once the orchid is prepared to bloom, you see flower spikes appearing, return to a balanced fertilizer.
#3 Potassium
Potassium is the third number on the label and is important for developing a strong root system, including the overall well-being of your orchids. Potassium also helps to fight pests and disease and bounce back from unfavorable conditions such as cold and drought conditions. When roots are forming use a fertilizer such as 0-0-3.
IN CONCLUSION…
You may also notice periods when the orchid plant goes dormant. During this resting period, you will not see any flowers, root or leaf growth. This signals the need to break from fertilizer and cut back on watering as well. When new growth appears, the orchid is beginning the next stage of its growing cycle and will again benefit from fertilizer.
The proper use of fertilizer will enhance the overall health of your orchids. Adding a few drops of fertilizer takes hardly any time at all. Now you've unlocked the mystery behind the fertilizer numbers. Being privy to the orchid's growing cycle will help you to use fertilizer to its fullest advantage and will help you to grow beautiful orchids.
Ready to Learn More About Growing Orchids?
Learn about natural sunlight and artificial lights, including fluorescent and LED lights, to grow orchids.
Read
4 Secrets to Successfully Give Your Orchids the Humidity They Need
Read