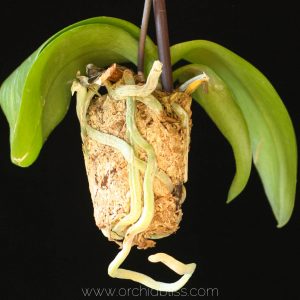 Orchid leaves should be upright, stiff and bright green. If your orchid's leaves are leathery and limp there is a watering problem.
Over-watered orchids are the most common killer of orchids.
Fortunately, overwatering is a fate that can easily be avoided. Because limp, leathery leaves indicate that the orchid is not getting enough water, our first instinct is to water. Then, when the orchid's leaves are still limp, we water again, and again. This effectively kills the orchid's root system. If the leaves are limp and leathery, make sure that the problem really is neglect. If you've been watering and watering, trying to water some life back into your orchid, hold off on the water.
Guess why I know so much about this cycle? That's right. Guilty as charged. By sad experience, I've learned how to ascertain if limp leaves indicate that I've over watered or under watered my orchid. I made that mistake simply because I lacked the knowledge. The orchid's instruction tag said nothing about watering problems, or about how to solve them. I had to figure it out on my own. After learning out how to spot watering problems, and how to prevent them, my orchids began to flourish. Now my orchids' leaves are bright and stiff, happy and thriving.
Some of the links on this page may be affiliate links. Click here to learn more.
First – Do you over-, or under-water your orchids?
The first step is to determine if the orchid is in a drought or flood situation. When possible, the best course of action is to lift the plant out of the secondary pot and look through the clear plastic primary pot to inspect the roots. If the orchid is not growing in a clear plastic pot, peek through a drainage hole. Often roots will make their way out of the drainage holes in the pot. If you still can't see anything, poke your finger into the hole and feel for dampness. If the potting media is damp, wait to water until it has dried out.
Find out what under-watered orchid roots look like
Healthy roots are plump and silvery green. The roots may even be white, but they should not be shriveled or brittle. Be sure to inspect the roots that are down in the potting medium, not the ones climbing out of the pot. It is okay if these roots are dry. If the deeper roots are dried out, your orchid is thirsty. Give your orchid a good soaking. Learning to properly water your orchid is the first step in becoming an orchid expert – and is a skill I'm confident you can acquire.
Here's what over-watered orchid roots look like
If roots are overwatered they will look like mush and have very little substance. Orchid roots are generally only bright green right after they have been watered and will turn the silvery green after a few days. If they are still bright green and you haven't watered recently, they may be getting too much water.
Most orchid roots cannot abide wet feet. If they are left in standing water the roots will rot and will no longer be able to deliver water to the rest of the plant. Continuing to water will exacerbate the problem. In this situation snip the rotted roots with a pair of scissors that have been sanitized with rubbing alcohol, and re-pot the plant. If there are very few roots left, raise the humidity level for the plant and wait for the plant to grow more roots. Again, my watering post gives tips on recognizing when to water, and when not to.
Second, discover how to avoid future watering problems
If your plants are under-watered, simply soak your orchid more frequently. Check once a week to determine if the potting medium had dried out. If overwatering is the problem, add a few days between watering. Be sure to check the potting medium before watering. If it is still wet, wait to water. Check again in a few days.
Pictured below are the healthy roots of a cattleya orchid. If your orchid is not a cattleya they will not look exactly like the roots pictured below, but like the roots pictured below, they will be firm, not mushy or dried out.
Successfully watering orchids is the most important factor in growing healthy orchids. Now that you know what unhealthy and healthy roots look like, you will be able to identify potential problems before they get out of hand. Let the dampness, or dryness, of the plant's soil, be your guide.
One last tip: Don't let dried out looking aerial roots trick you into thinking you need to water if the potting medium is still wet.
Related Articles