It just makes sense to buy orchids that will live happily in our homes. To that end, I have compiled a list of easy to grow orchids that make spectacular housemates.
TOP 6 EASY TO GROW ORCHIDS
The purpose of this website is to help people, like you, to grow orchids in our homes without the necessity of a greenhouse. This means that I focus on the many amazing orchids that flourish in the same environment that we do. For example, I will not promote orchids that will shrivel up and die if they don't receive 80% humidity. I call these easy to grow orchids that thrive in a typical home house happy orchids.
I will receive a commission if you purchase through these links.
Phalaenopsis
The easiest care orchid is the Phalaenopsis. This orchid is readily available at most grocery stores. And, little wonder, the blooms last for months and the stalk can be trimmed to encourage another spray of flowers. Miniature varieties are power packed with lots of flowers and usually multiple stalks. These plants are happy in a bright, preferably east, window. Before watering, let the plant almost dry out. Keep indoor temperatures between 60 and 80 degrees Fahrenheit.
Check out my EBOOK: WHAT TO DO WITH YOUR GROCERY STORE ORCHID to learn how to care for you Phalaenopsis orchid.
BUY PHALAENOPSIS ORCHIDS
MINI PHALAENOPSIS IN 2 INCH POT
MINI PHALAENOPSIS IN 3 INCH POT
Dendrobium
If you are looking for an orchid with lots of flowers, consider a Dendrobia Roy Tokunga. These orchids are graced with white flowers heavily speckled with purple and darker lips. The blooms will for three months, and each spike will bloom up to three times. After the blooms are spent, simply cut just below the last flower and wait for more flowers. Set this flowering powerhouse in an east window and water twice weekly when planting medium is almost dry.
A couple of Dendrobium no-nos. First, they do not like to be re-potted. Only re-pot if you think you may lose the plant anyway. Second, they do not like wet feet. Do not leave in standing water. Remember these two rules and Dendrobiums are easy-peasy with incredible flower power.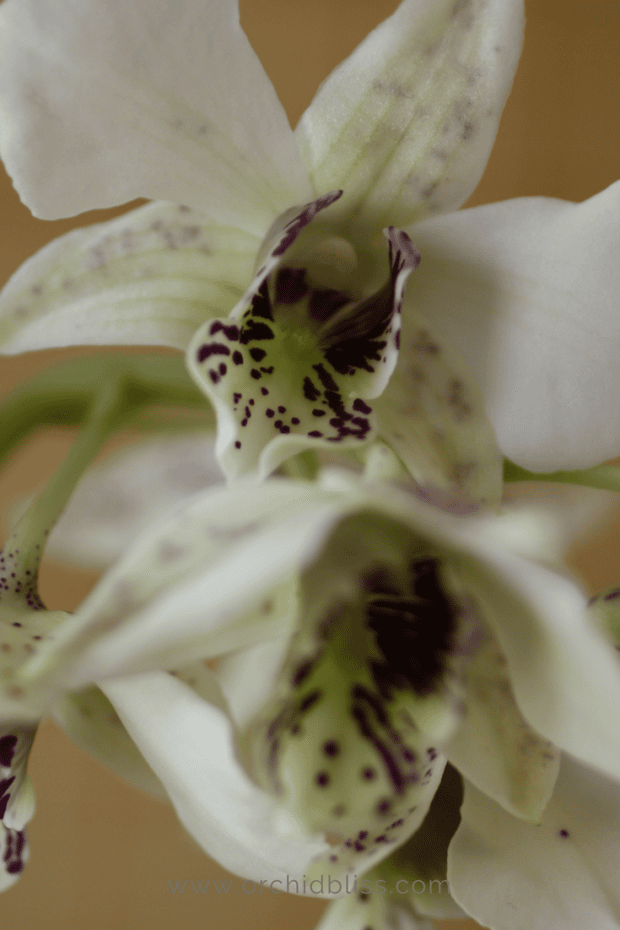 BUY DENDROBIUM ORCHIDS
Brassia
If you are looking for an easy to grow orchid that will fill the room with aromatic flowers, you've found it in the brassia. This flower is also called the spider orchid because the long, slender sepals resemble a spider. Water frequently when in bloom and less frequently when resting between bloom periods. These orchids, like most others, prefer bright indirect light–such as that found in an east window. (Are you seeing a pattern?) A south or west window will also work if you have a sheer curtain to diffuse the light.
BUY BRASSIA ORCHIDS
Paphiopedilum
The paphiopedilum, or the lady's slipper, is the most rewarding orchid I've grown. I love watching the large, unique bud slowly open. The large lip is extraordinary. These orchids have lower light requirements and can be grown in any window. Be sure to hang a sheer curtain if growing in a south-facing window. There are many orchids that like to dry out between watering; the Paphiopedilum is not one of them. Keep your plant evenly moist. This is something that will come with practice. Unlike most orchids, the Paphiopedilum is semi-terrestrial and takes re-potting well. I love my Paphiopedilum; it's totally exotic!
BUY PAPHIOPEDILUM ORCHIDS
Cymbidiums
If you want large flowers go with a Cymbidium. These orchids are characterized by a profusion of large flowers and long, grass-like leaves. While writing this, mine has 4 flower spikes in bloom with 1 more on the way. Depending on the size of your plant, several bloom spikes will grow at once. Like the Paphiopedilum listed above, cymbidiums are semi-terrestrial.
Most Cymbidiums available at the grocery store are the cold flowering variety. That's why they are often seen at Christmas time. This is important when it comes to re-blooming. A drop in temperature is vital to trigger re-blooming. These plants can be brought outdoors for the summer and can stay out until the temperature drops down into the 40s. Be sure to bring it in before it freezes! Once indoors, the more light you can provide this baby the better. Enjoy the flowers in the winter, and, if you wish, bring it back outside in the summer.
BUY CYMBIDIUM ORCHIDS
Oncidium
There are many varieties of oncidiums. To be extra confident that the Oncidium is house happy, my suggestion is to ask-before-you-buy. Ask the seller if the variety you are interested in buying will thrive in your home or if it is better suited for the greenhouse.
My Oncidium, pictured below, sits in an east-facing window where it receives bright, but indirect light. I bought this orchid from Trader Joe's. The tag identified it only as an "exotic orchid," so I can't be sure of the exact variety. There is one thing I am sure of: the lovely fragrance is very floral. There are other varieties such as 'Sharry Baby' that has become famous among orchid enthusiasts for it's chocolate aroma. Another Oncidium with a vanilla scent is 'Twinkle.'
BUY ONCIDIUM ORCHIDS
Your Turn
Now that you have some suggestions on easy to grow orchids, the next step is to select the healthiest plants. Check out my post on choosing an orchid.
Have you had success with these or any other indoor varieties? We orchid enthusiasts are always willing to try something new. Please comment below to share your successes and failures with growing house happy orchids in your home.