I have fallen in love with mini Phalaenopsis orchids. They are more compact than the traditional variety and are loaded with blooms and come in a variety of colors. Like other Phalaenopsis orchids, the blooms will last for months.
Some of the links on this page may be affiliate links. Click here to learn more.
LEARN HOW TO CARE FOR MINI ORCHIDS
First – How to water your mini phalaenopsis
Mini orchids are usually sold in sphagnum peat moss to help keep them from drying out. The key to watering orchids potted in sphagnum moss is to avoid overwatering them. It is helpful to remove the plastic liner pot that the orchid is growing in. The orchid's roots hold the sphagnum moss in place. Removing the plastic liner gives the roots air circulation and keeps the moss from retaining too much water.
Buying Tip: If a purchasing your mini at your local grocery store, make sure that the potting media is not completely dried out. Because their pots are so tiny, they dry out more quickly than larger orchids. One trick, if you can stand to wait, is to talk to the florist at your local grocery store and ask when the next shipment is due. This way you'll have the best selection, and the plants will be at their prime. You pay the same for the plants that have sitting on the shelf as you do for the ones just shipped in.
Second – Where to place your mini phal
Phalaenopsis orchids are susceptible to bud loss. To prevent your orchid from losing its buds, place it in a location where it will receive bright, but indirect light – away from drafts such as air vents and exteriors doors.
Third – Prepare your orchid to bloom again by cutting the flower spike
After the flowers die, cut the stalk one inch up from the node closest to the crown. After a few months, a new stalk will emerge, followed by tiny buds. Trimming the stalk will keep the plant healthier and produce more flowers in the future.
Free guide

Click here for a FREE PDF download on where to cut the orchid flower spike.
GIFTING MINI PHALAENOPSIS
Mini Phalaenopsis orchids make a perfect gift either for yourself or for someone else. Don't underestimate a mini Phalaenopsis. They may be small, but they are tough. Their flowers will last for several months. Often mini Phals will have more than one flower stalk. And, they are available for a fraction of their full-size counterparts.
HOW TO CREATE YOUR OWN MINI PHALAENOPSIS ARRANGEMENT
Grouped together, mini orchids can look quite stunning. Just by placing three orchids together in one shallow tray, you can easily create a single arrangement.
Materials
3 mini orchids can be purchased at your local grocery store or online. You can go for either a variety of colors or flowers that are all the same color. (A less expensive online option is to buy bare root orchids, though they will not be in bloom.)
A shallow container with a wide, flat base. This could be a basket, a piece of pottery, or a tray. Look for one at a craft store or hopefully, you may already have one stashed around your house.
Prepackaged mixed moss is available at craft stores and online.
Leaving the orchids in the little pots that they came in, set the mini orchids in the container.

Fill in the gaps between the orchid pots with the moss, and,

voilà

you're done.
This display is much more convenient to care for than conventional, pre-made displays because the orchid pots are easily removable, making it super easy to water the plants. Also, this way if one of the plants finished flowering, it's a simple job to replace it with another orchid. In addition to beautifying our own home, this arrangement is a lovely, thoughtful gift for any occasion.
With their crown of flowers, mini orchids are little princesses adorning our homes with grace and tranquility. Who would know that they are so easy to care for (and so inexpensive)?
Mini Phalaenopsis orchids make a perfect gift either for yourself or for someone else. Don't underestimate a mini Phalaenopsis. They may be small, but they are tough.
WHERE TO BUY MINI PHALAENOPSIS ORCHIDS
In case you're wondering where my favorite place to buy mini Phals, check out Floralistic. These orchids are lowest-priced, yet come in a variety of colors. Floralistic sells phalaenopsis in both 2-inch pots and in 3-inch pots.
WHAT OTHER ORCHID ENTHUSIASTS ARE SAYING ABOUT THE PHALAENOPSIS ORCHID
Beautiful Phalaenopsis
I have a beautiful Phalaenipsis Orchid, which was given to me in full bloom, as a gift in June of 2016. When the flowers dropped, I repotted it, and in September of 2017, a new spike began to grow. I am very happy to say, that I have been enjoying the flowers from this spike since late December of 2017, and still going! I have strong healthy leaves, and a great root system. I use AAA New Zealand Sphagnum Moss from rePot me web store, and have it placed in an East facing window. I have a humidity of around 55-58%, and generally have the room at about 73-76 degrees, depending on how sunny the day is. I find that I have to water the plants about 2-3x a week.
The Phalaenopsis is one of my latest delights.
Hi Anna, I love my orchids and am enjoying their beauty and perfume now as they present with an array of colour and design. It is winter here in Australia and they brighten any dreary day.
The Phalaenopsis is one of my latest delights. It currently has 6 flowers and it is happily growing on my kitchen window sill. It likes the temperature that we humans enjoy. It is watered every 7-10 days. A great help I have found as to know how often to water is to put a wooden skewer in the pot. If the tip of the skewer is moist it is not ready for another drink yet.
Thanks for your regular tips on growing and getting orchids to flower.
I grow Phalaenopsis orchids.
I grow Phalaenopsis orchids. I have 5 and have been successful in getting them to re-bloom.
I love moth orchids!
I've just taken in my third moth orchid and I love them! So simple and beautiful! One has a shoot and will probably flower at the beginning of the year, the other is still growing it's leaves and will probably send out a shoot soon! The third I just picked up today and has blooms!
RELATED POSTS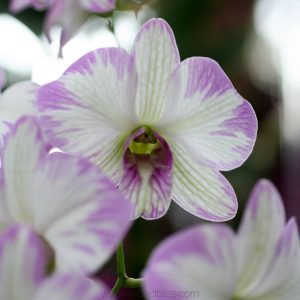 Keep reading to learn all the essentials of orchid care
Read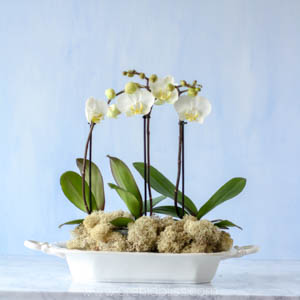 A Centerpiece You'll Enjoy Long After the Party
Read