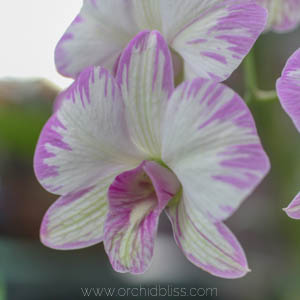 Tools to ReBloom Orchids
We don't grow orchids for their leaves. We grow them for their flowers. These are the tools I use and love and that have helped my orchids bloom. To make it easy for you, I've listed these tools together, all in one place.
Here you'll find the tools I use to help my orchids to bloom. You'll learn how I use them and how you too can use them to help your orchids to bloom again…and again.
Some of the links on this page may be affiliate links. Click here to learn more.
Grow Light System
Light is the #1 reason for failure to bloom. I use this Pro Light System to successfully bloom everything from Phalaenopsis to Cattleya orchids.
If you can't provide enough natural light for your orchids, investing in a grow light system could mean the difference between orchids and bloom and those that don't.
There are two things I really like about these lights. First, the lights don't get too hot, so you don't have to worry about burning your orchids. Second, you can adjust the lights to the height of your orchids. Since Phalaenopsis are a low light and Cattleyas are a high light orchid, you can lower the lights for Cattleyas and bring the lights up higher for Phalaenopsis.
TIP: Once your orchids are in bloom, you can move them from the lights to a location where you can enjoy the flowers.
GROW LIGHT SYSTEM
Dyna-Gro Fertilizer
Judicious use of fertilizer will help you to grow stunningly beautiful orchids. Fertilizers will enhance your orchids in every way including blooming, root systems and leaves, fight off disease and overall health.
Dyna-Gro is the fertilizer that I personally use and recommend for successfully growing orchids
​Keiki Power Pro
If you want your Phalaenopsis orchid to produce more flowers, then this item will do that.
I've used it many times with results. After applying this paste your orchid will produce either a keiki (a baby orchid, an exact clone of the mother plant) or, more often, flowers.
A little goes a long way, so you'll get lots and lots of flowers with this product.
KEIKI POWER PRO
Pruning Shears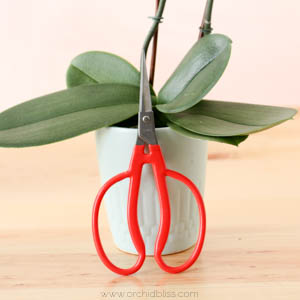 While these pruners won't actually make your orchids flower, they are helpful for trimming the flower spike.
These are my favorite pruners! I use them all the time. They are sharp and cut cleanly every time.
These pruners feel just right in your hand. I use them when potting, to clean away dead roots, trimming flower spikes and for cutting away dead leaves.
Mini Phalaenopsis
I have scoured the internet looking for superior quality Phalaenopsis orchids available at a reasonable price. I am so pleased to recommend these orchids from Floralistic.
These orchids come in a 3″ plastic liner pot and a variety of colors-you pick the color you like best.
MINI PHALAENOPSIS
To help you further, start by downloading my free cheat sheet to see where to cut the orchid flower spike after blooms have faded to trigger re-blooming. Click here, for the cheat sheet. It'll be super helpful.
What to Do with Your Grocery Store Orchid
You've purchased or been gifted, an orchid from your local grocery store and now you're wondering how in the world to care for it.
No worries. In this step-by-step guide, you'll discover everything you need to know to care for the Phalaenopsis, or moth orchid. With full-color photographs, detailed instructions, and bonus guides, I'll show you how to care for your orchid.
In addition to care tips on light, temperature, air circulation, watering, humidity, fertilizing, potting and re-blooming you'll even get some styling instructions so you can create your own orchid arrangement.
After reading this book you'll learn that orchids need not be the world's longest-lasting throw-away bouquet, instead, they are the world's longest-lasting flower bouquet that blooms, and keep on blooming–for years!
EBOOK: WHAT TO DO WITH YOUR GROCERY STORE ORCHID
As I said, these are the tools that I personally use to bloom my orchids. If you have any questions about these products, please comment below.
Related Posts