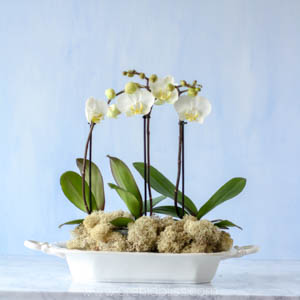 Get ready to make your orchids work for you by designing a professional-looking orchid display.
Especially if you're an orchid grower, you may have a few orchids in bloom that are begging for you to show them off. Or, you may have an upcoming dinner or special occasion and you'd like to use orchids in your centerpiece. I'm in complete agreement with you.
Let's talk about what makes successful centerpieces, some suggestions for containers for centerpieces, and, finally, let's put some centerpieces together.
Some of the links on this page may be affiliate links. Click here to learn more.
A Successful Centerpiece
Looks good from every angle
Does not impede conversation
May facilitate conversation "My, what a lovely and interesting centerpiece"
Can double a gift for guests
Is eye-catching
Can be made ahead of time
Is long-lasting
Containers for Centerpieces
Serving dishes
Silver
Glass: mercury, seeded, colored, milk or clear
Pedestal dishes
Flat trays
Baskets, bread, Native American
Wood: box, cutting board, cheese board
Supplies You'll Need to Create Your Arrangement
Tip: In this post I talk a lot about using orchids potted kokedama style. While this style is by no means a prerequisete for centerpiece orchids, they are fun. If you'd like to learn more, check out this post:
Orchid Centerpiece Using Serving Dishes
Orchid Centerpiece with Kokedama in Glass
Orchid Centerpiece: Tray with Orchids and Air Plants
Orchid Centerpieces: More Is Sometimes Just More
Tip: If you are using kokedama, fill the bottom with a shallow layer of gravel to stabilize the orchids.
Your Turn
When designing your orchid centerpieces, keep in mind these three things: First, orchids are ideal because you can purchase and get them ready WAY in advance and you won't have to worry about the flowers fading. You can put these together weeks before your event and they will only improve as more flowers open. Second, remember that the centerpiece should facilitate, not detract from the conversation. (That's why I like mini orchids; they aren't too tall.) And, third, be sure the centerpiece looks good from every direction. With these things in mind, your centerpieces are sure to be a hit. Orchid flowers tend to be long-lasting by nature and they are definitely eye-catching.
Buy Orchid Terrariums
If creating your own display just isn't your cup of tea,  click here to check out these orchid terrariums:
Related Content