Some of the links on this page may be affiliate links. Click here to learn more.
If you're looking for orchid gift ideas, you've come to the right place.
Here you'll find everything from live orchid plants, and hand-thrown orchid pots to a line of orchid-inspired paper goods featuring a desk calendar and note cards to finely rendered orchid prints and original art.
Mini Phalaenopsis Orchids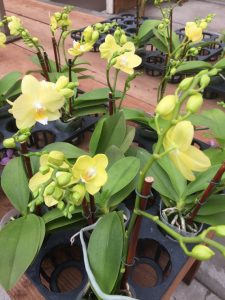 I have scoured the internet looking for superior quality Phalaenopsis orchids available at a reasonable price. I am so pleased to recommend these orchids from Floralistic.
These orchids come in a 3″ pot and a variety of colors-you pick the color you like best.
These orchids are potted in sphagnum moss, which is ideal for shipping. The roots and potting media stays in place.
After the orchid has finished blooming, I recommend potting the orchid in Bonsai Jack's Miniature and Seedling Mix.
Orchid Terrarium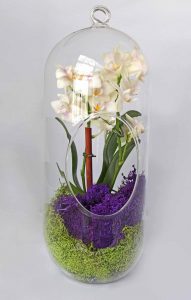 Another quality item from Floralistic; you'll love these 12″ mini orchid terrariums. To make it just the way you like, you get to choose the color of the orchid and the reindeer moss.
These terrariums make lovely gifts and are perfect for weddings and other celebrations.
---
Hand Thrown Pots
Consider gifting a rather spectacular orchid pot. These hand-thrown pots are works of art created with love by master potter and orchid grower, Jolene Cap. These hand-crafted pots are everything that big-box, mass-produced items are not. This is a gift that orchid fans will treasure.
Orchid Paper Products for the Home and Office
What could be lovelier than a desktop calendar featuring orchids? In addition to the calendar, at Favorite Story, you'll also find note cards, gift wrap, and prints.
Orchid Art for the Orchid Lover
Imagine the walls of your home or office dressed up in stunning original or archival orchid prints.
These orchid prints are made with high quality 100% cotton paper using archival pigment by New England artist Sarah Martinez. The quality of these prints is such that the prints are hardly discernible from the originals.
These stunning paintings are original artwork painted by Kseniya Volosyanaya. If you have something particular in mind, custom orders are welcome.
These watercolor prints are painted by Dutch artist Michelle Dujardin who specializes in zen art. Her artwork is available on canvas or on paper.
For highly textured original artwork, Olga's impasto-style paintings may be just what you're looking for.